Welcome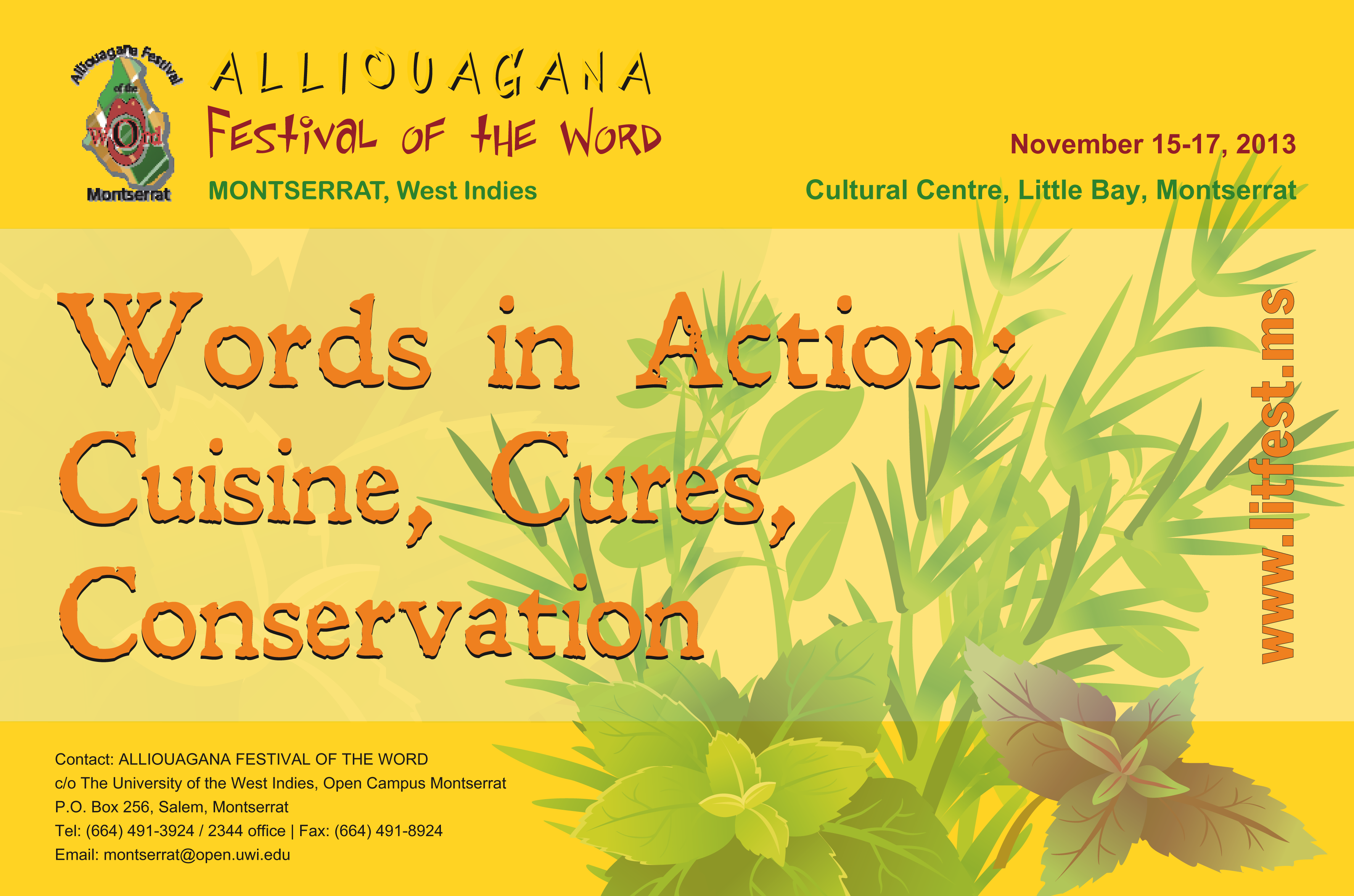 "Words in Action: Cuisine, Cures, Conservation
"
This fifth, or 2013 Alliouagana Festival of the Word, draws heavily on local talent and has as its patron, His Excellency, the Governor, Adrian Davis.  The theme Words in Action: Cuisine, Cures, Conservation allows us to highlight interesting local and regional work in all three of these areas.  Through the joint efforts of Dr. Stephen Ebbs at Southern Illinois University at Carbondale, Neil How and Bruce Farrara, we have many copies of David Brussell's 1997 Publication, Potions, Poisons and Panaceas: An Ethnobotanical Study of Montserrat and these will be available for sale at the Festival.  This along with the 2009 publication Montserrat: A Guide to the Centre Hills by Steve Holliday and Juliana Meade's forthcoming Roast Balangé: A Montserrat Cook Book provide the springboard for this year's Alliouagana Festival of the Word.
Dr. Sylvia Mitchell who heads the Medicinal Plant Research Group in the Biotechnology Centre at the University of the West Indies, Mona Campus will present this year's distingished lecture in the Alphonsus 'Arrow' Cassell Memorial Lecture Series.  On Friday November 15, she will speak on Harnessing the Potential of our Biodiversity for Health and Wealth: A Common Caribbean Theme with Huge Implications for Islands such as Montserrat.  Montserratian Maureen Greer Lee, performance poet and Natural Health Consultant will speak on the topic "Your Health is your Wealth: Return to Nature and Heal Thyself." Jamaican-Canadian poet, Mary-Lou Soutar Hynes, will provide some key literary underpinnings as she talks about her own development as a writer and how she creates a sense of place in her poems. Rosemary Parkinson, culinary author and contributor residing in Barbados, has chosen to present on Time for us to Shine: Food, Health and Herbs. We are delighted to be collaborating with the Coral Cay Group currently conducting research on Montserrat's terrestrial and marine environment, partly sponsored by the Governor's Office.  The group will among other things present a workshop on Our Protected Areas and Endemic Species: International Conservation Sciences
This year's Festival provides something for every age range from youngsters to seniors and across a much wider range of interests than previous Festivals.  I encourage you to join in as many events as your busy lives allow.