Mitchell, Sylvia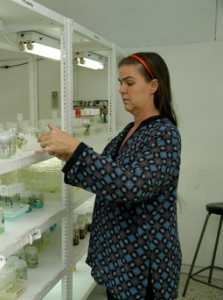 Dr. Sylvia Mitchell, Lecturer, at the Biotechnology Centre, the University of the West Indies, Mona, is head of Medicinal Plant Research, which she initiated in 1999. She is trained in various aspects of technology commercialisation and has over twenty-seven years experience with tissue culture including seven years at the Scientific Research Council in Jamaica.
Dr. Mitchell supervises undergraduates, postgraduates, and post-doctoral researchers in areas that include tissue culture, ethno-medicine, anti-microbial and molecular aspects of research.  Her own research includes the study of in vitro physiology, development of micropropagation protocols and soil ameliorants such as biochar, and has over 233 publications in refereed journals, newspaper and magazines, including technical reports, monographs, as well as an e-book.  She believes the Caribbean has real potential to realize the sustainable utilisation of its native plant biodiversity for food, herbs, spices, medicine, aromatherapy, furniture, and biofuels through the judicious use of biotechnology, a goal towards which she is diligently working.
She is presently a board member of the Bureau of Standards Jamaica, and the College of Agriculture, Science and Education (CASE) and also serves as an Education Officer for the Society for  In Vitro Biology, member of TRAMIL, and an Editor for the Third World Academy of Science Medicinal Plant Network..
She will be presenting the 2013 distinguished lecture in the Alphonsus 'Arrow' Cassell Memorial Lecture Series.  She will speak on the topic Harnessing the Potential of our Biodiversity for Health and Wealth – A Common Caribbean Theme with Huge Implications for Islands such as Montserrat.